Cal-Royal CGN05 Grade 1 Storeroom Lock - ANSI F80
Deadlocking latchbolt operated by key in outside Lever or rotating inside Lever. Outside Lever is always fixed.
FEATURES
GENERAL Full length 4 ¾" lever handle with ⅜" return on GN and SPA Design. Rose diameter 3 ½". Key removable outside lever for fast re-keying. Non-handed levers. Concealed mounting screws.
CLUTCH Free turning handle in the lock position without retracting the latch, to deter breaking of handle.
APPLICATIONS For offices, schools, hospitals, apartments, hotel / motel, residential, commercial and public buildings.
DOOR RANGES 1 ⅜" to 1 ¾" thickness. 2" to 2 ¼" thickness also available on request.
ANSI STANDARDS Meets or exceeds BHMA / ANSI A 156.2 Series 4000, grade 1 requirements.
LATCH FACEPLATE Standard 2 ¼" x 1 ⅛" for 2 ¾" backset. Optional 2 ¼" x 1" for 2 ⅜" backset.
STRIKES ASA 1 ¼" x 4 ⅞" standard. Other strikes available upon request.
CYLINDER & KEYWAYS 6 pin solid brass "C" keyway standard. Schlage E, Schlage C-K, Russwin D1-2-3-4, Corbin 59/60, Corbin-Russwin L4, Sargent LA-LB-LC, Falcon / Weiser E, Arrow A, Yale 8, Yale GA and Kwikset. Can also accept Medeco, Assa, Kaba and Cal-Royal (HSK) High Security Cylinders.
TRIM Thru-bolted assembly through door with separate spring cage for each lever.
HOUSING Cold Rolled Steel and Zinc Dichromate finish for rust resistance with precision cast steel retractor. 2 ⅛" diameter bore.
INTERCHANGEABLE CORE (IC) Interchangeable Core locks will accept compatible 6 or 7 pin cores with BEST, FALCON and ARROW. Also available with SCHLAGE, CORBIN / RUSSWIN, SARGENT and YALE large format cylinders. For Schlage, Corbin / Russwin, Sargent and Yale format specifications, refer to next page.
LATCH OPTIONS 2 ¾" standard, brass with ½" throw. 2 ⅜", 3 ¾" and 5" backset optional. GND750 deadlatch reversible for flat and beveled door. ¾" throw anti-friction deadlatch for pair of fire doors.
ELECTRIFIED LOCKS, TACTILE & LEAD LINING available upon request.
For Offices, Schools, Hospitals, Apartments, Hotel / Motel, Residential, Commercial and Public Buildings.
Meets or exceeds BHMA / ANSI A 156.2 Series 4000, grade 1 requirements, GRADE 1

Heavy Duty Cylindrical Leversets

Clutch Mechanism Fixed thru Bolt Installation

Available with Interchangeable Core for BEST, FALCON & ARROW

Available Full Size Interchangeable Core for SCHLAGE, CORBIN / RUSSWIN, SARGENT and YALE
GN DESIGN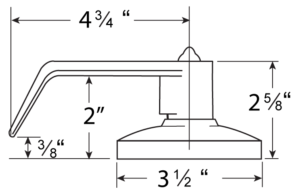 Genesys Series Catalog